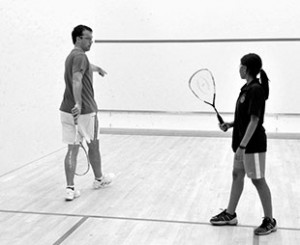 Yesterday, I had the pleasure of spending time with my friend Derek Aguirre. Derek is Executive Director of Racquet Up Detroit, an after-school youth development program which uses the sport of squash, in combination with fitness development, academic tutoring and support, community service opportunities, and mentoring to make a difference in the lives of Detroit youth.
In addition to touring the facility and meeting several of the fifth-grade participants, Derek and I spoke at length about his motivation for starting this program, and his vision for Racquet Up.
After graduating from the University of Michigan, Derek began working at a program in Boston whose mission is to challenge and nurture urban youth so that they recognize and fulfill their potential. Its founder was a former top-ranked squash professional who wanted to use squash as a way to engage the kids. During his six years at SquashBusters, Derek developed a plan to create a similar program in Detroit.
The more time I spend with Derek, the more impressed I am not only with his vision, but also with his commitment to making a difference in the lives of inner-city youth. With an MBA from Harvard, it's natural to think that he would have ended up in investment banking or management consulting. But Derek's career plan has been very clear, and he couldn't be happier.
"It's the most fun, engaging work I would ever imagine!" he says. Derek chuckled about the response he gets when he tells people he runs an after-school program for fifth-graders. "They say something like, 'No, what do you really do?'"
After learning more about the program, what became very clear is it's not about squash. Although the kids engage in competitive play, which will probably offer opportunities later in life, Racquet Up is really about expanding opportunities for its participants. In other cities where similar programs are in place, nearly 100 percent of the students who started and stayed with the program through high school ended up graduating, and more than 90 percent went on to attend college. Derek's goal is to achieve that same level of success.
In terms of structure, students spend half the time on the squash court, and half the time in the classroom. Students receive help with homework, and a literacy program has been developed to ensure that participants read at a high level. The program also teaches "life lessons", which includes proper conduct and etiquette. Finally, participants take field trips to places inner-city youth often don't experience, such as a trip to Ann Arbor to visit the University of Michigan.
Most importantly, Derek and the volunteers at Racquet Up are holding a vision for these students of a future that is bright. I can't wait to see what these young fifth-graders accomplish, and I applaud Derek for his commitment to making a difference in their lives.
For more information about Racquet Up Detroit, visit http://www.racquetup.org.